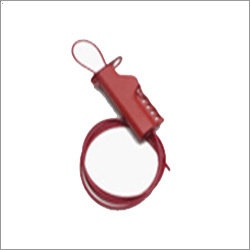 All Purpose Cable Lockout
Product Code : SSS-SEL-2102
Product Description
All Purpose Cable Lockout
Cable lockouts are incredibly versatile making them perfect for all of your unusual energy isolating devices that are difficult to lock out.
Specifications

Compact, lightweight body is made of rugged impact modified glass filled nylon giving them superior chemical, corrosion and temperature resistance properties.
Includes non-conductive nylon (1/8" diameter) cable.
Ergonomic design makes it a "cinch" to tighten cable-hold device in one hand and cinch tight with the other.
Built-in cable loop keeps cable neatly coiled when stored and prevents it from dangling loose when device is being used.
4 lock holes in handle accommodate most lock shackles and hasps.