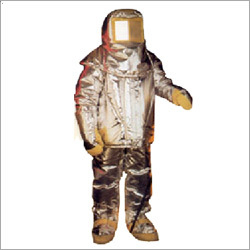 Aluminized Fire Entry Suit
Product Code : 7000-SERIES
Product Description
7000 Series Fire Entry Suit (Aluminized)
The 7000 series Fire Entry Suits consists of separate Coat (with B.A.Set Pouch), Pant, Hood, Boots and Gloves constructed from multiple layers of insulated multi layered Aluminized Silica Fabric (outer shell) for maximum Heat Protection and Radiant Heat Protection. This unique, breakthrough insulation Technology, delivers superior heat and Radiant and flame protection. 7000 series Fire Entry Suits features new patents and ergonomic designs permitting users greater freedom of moments.
These items of heat protective garments are manufactured from, Aluminized Silica Fabric, Thermal Insulation Fabric, Moisture Barrier Lining & Fire Retardant Fabric Lining and Woolen Lining.
All these garments are stitched using the superior quality thread.
Shoes are with oil and heat resistant sole.
Application: Ideal for its use where the high heat and radiant heat protection is required. Designs for short duration ambient heat 1500 oF (815 C), Radiant heat to 3000 oF (1650 C) and total flame 2000 oF (1093 C).