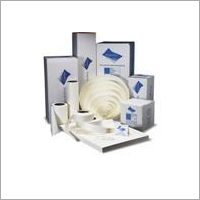 Aquasol Soluble Paper
Product Code : SSSWWS-WCE-1617
Product Description
Aquasol Soluble Paper
Aquasol Soluble Paper is made out of Sodium Carboxy Methyl Cellulose and wooden pulp which dissolves completely in most liquids including water

The basic purpose of soluble paper is to dam Argon or Helium gases during TIG welding of SS & Aluminium pipes.

After welding is complete, the soluble paper can be easily flushed out with water leaving no residue in the pipeline.

Soluble paper is available in many grades & different sizes.