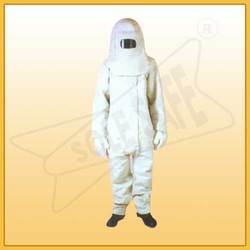 Asbestos Suit
Product Code : SSS-BP-602-A
Product Description
We put in our best efforts to provide most innovative and technical advance range of Asbestos Suit. Made from asbestos fabric and modern technology at our state of the art machining facility, these suits are used by personnel working in refineries, petrochemical plants, foundries, casting plant, steel and glass industries. Breathable, lightweight and rugged design are some of the salient attributes of our Asbestos Suit. In addition, our clients can avail these suits at a reasonable price.
Further Details:

Item Code: SSS-BP-602-A
Product Features:

Antistatic or non Antistatic
Made from Asbestos fabric with heavy duty flannel lining pasted with synthetic solution.
It is a one piece overall with Hood, pair of Hand Gloves and Safety Shoes with leather sole.
Available in three qualities i.e. S -20, AMC -41 and AMC -45.
Apron, Heap Legging, Furnace Mask, Blanket and Sleeves made from Asbestos fabric with heavy duty (S-20, AMC-41, AMC-45) are also available.
Quick Buyer Details

Product Name:
Asbestos Suit
Product Code:
SSS-BP-602-A
Model Number:
SOLE SAFE SSS-BP-602-A
Brand Name:
SOLE SAFE
Business Type:
Manufacturer, Exporter, Supplier
Product type:
Fire Protection Garment
Place of Origin:
Mumbai - 400003, Maharashtra, India
Certification:
Trust Stamp
Hot Markets:
Worldwide
FOB Price:
Negotiable, Sent by mail
Min. Order:
As per requirement
Supplying Ability:
We can take/supplies Bulk orders
Payment Terms:
Cash / Credit/ T/T ,L/C




Design Features & Specification
Material:
Heat retardant textile, Fabric coated and aluminum plated film compound
Size:
S,M,L,XL,XXL,XXL,XXXL
Color:
White/Aluminum color
Weight:
Approx 40g to 60g
Refraction:
70.00%
Anti-temperature:
1000 C
Wavelength:
400 to 1000 mm.
Peel strength:
12N/50 mm
Component part:
jacket, gloves, trousers, hood and foot cover, overshoes jacket headgear
Heat Resistance Temperature:
1000℃
Application:
Clean room, Construction & Asbestos moving




Packaging & Delivery
Packaging Detail:
Safe packing as per Industrial & International standard
Delivery Detail:
Timely delivery of consignments after confirming order & payment
Shipment By:
Sea, Air, Cargo