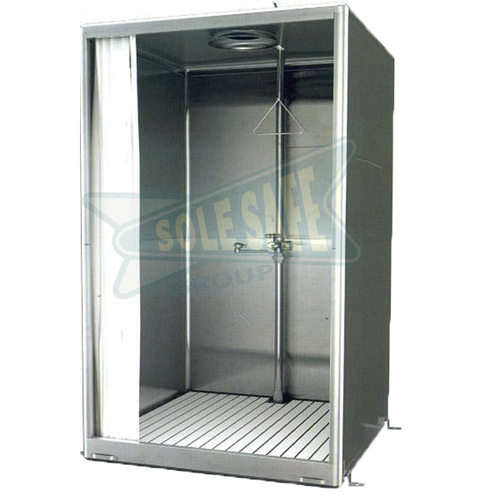 Cabinet Safety Showers
Product Code : SSS-PPE-ESS-CSS1021
Product Description
Cabinet Type Eyewash & Shower
Specially made single entry stainless steel cabinet equipped with stainless steel shower and eyewash with provision of sliding curtain.

Product is ideal for highly sensitive equipment areas to avoid water spread.

Material of construction:
Shower Head -8" diameter stainless steel 20 GPM flow control
Shower Valve -1" stainless steel ball valve with stainless steel pull rod
Eye wash spray head assembly -Two GS-plus spray heads mounted on stainless steel supply arms.
Each spray head has individually adjustable flow control and filter to remove impurities from water
Eye wash valve - 1/2" IPS SS push plate
Wall of cabinet - 16 gauge type 304 stainless steel at the bottom and 18 gauge 3 sided wall of cabinet is matt finish and welded seams.
Pipe and fittings - All pipe and fittings are of stainless steel 304.
Supply - 1" NPT T top and bottom female inlet
Waste - 4" NPT female outlet
Sign - with reflective tape and identification sign