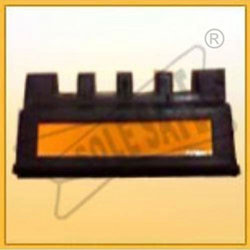 Car Stopper
Product Code : SSS-TRS-1331
Product Description
Car Stopper/Wheel Chock
Item Code: SSS-TRS-1331
Size :
500 X 170 X 130 (H) MM
Specification :
Colour : Black With Yellow Or White Reflective Sheeting.
Body Material : Modified Thermoplastics (Polymer Rubberized).
Fixing : Fixed On The Ground With Two H.T. Nail + Two Component Epoxy Adhesive.
Features : Used As A Centre Lane Divider With Spring Post In Between.