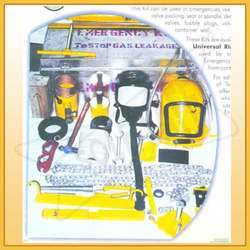 Emergency Chloroine Kit
Product Code : SSS-PFIH-1202
Product Description
Emergency Chloroine Kit
Item Code: SSS-PFIH-1202
For use in emergencies like leakage of hazardous gases from 100 kg cylinder / 1000 kg tonner.
The kit contains 40 different items.
Can be used by single person in emergency to handle leakage from container valve.
Tonner stand is provided for easy use in emergency.
Useful in emergencies like leakage of gases i. E. Chlorine / ammonia etc. From valve packing, seat or spindle, fusible plugs, valve body, defective threading in valves or from container wall.