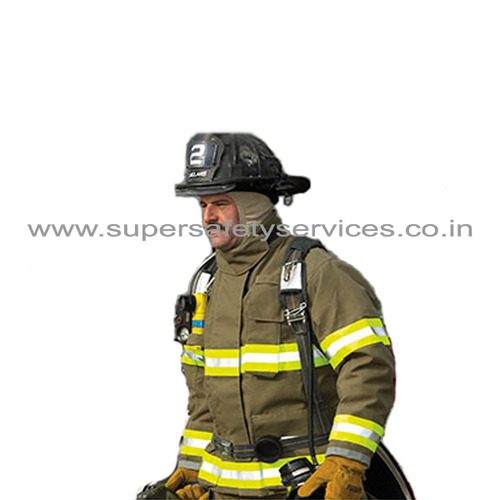 Fire Fighter Suit
Product Code : SSS-CPC-2814
Product Description
Fire Fighter Suit
Showcasing cum distribution partner for LAKE LAND

Specification:
The suit is made of multi-layered light weight fabrics and protects a fire fighter from intensive flames and high heat radiation.

The suit is equipped with fire fighters - coat, trouser, gloves, helmet & fire protective hood. (Please check the opposite page for details.)

The Suit is made of the following Fabrics:
Outer Fabric: 100% fabric having weight of minimum 200 GSM (6Oz/Sq.Yd). The outer fabric having inherent fire retardant properties, can be washed more than 250 times without losing it's fire retardant properties.

Moisture barrier: Blend of m-aramid fiber and p-aramid fiber, laminated to FR breathable membrane (membrane to outer fabric). This fabric allows the body heat and moisture to be thrown out and does not allow the outside heat to enter the body.

Thermal Lining: Fire retardant m-araid fabric felt is quilted to m-aramid light weight woven fabric. This fabric allows comfortable wearing to the fire fighter.
Size: S-XXL
Available Colour: Navy Blue, Red, Yellow & Orange