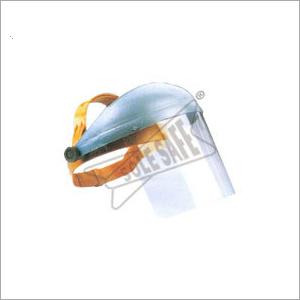 Grinding Face Visor
Product Code : SSS-FS-203
Product Description
Grinding Face Visor

SSS-FS-203
We specialize in Industrial Heat Protective Accessories such as Grinding Face Visor. Our Grinding Face Visor design and manufactured philosophy embraces principles of high quality in conformance with various local and international quality standards, durability, user friendliness, aesthetics, environmental awareness and cost effectiveness.

Product Features:
Lightweight
Easy to wear
Comfortable to use
Excellent safety
User-friendly
Perfect fitting
Excellent in quality
High grad face shield visor
High reliability & durability
Product Specification:

Deep moulded crown protection for spark deflection.
Replaceable visor of 6" X 9", 9" X 12".
With Rachet head band.
Quick Buyer Details

Product Name
Grinding Face Visor
Product Code
SSS-FS-203
Model Number
SOLE SAFE SSS-FS-203
Brand Name
SOLE SAFE
Business Type
Manufacturer, Supplier, Exporter
Product type
Face Protection
Place of Origin
Mumbai - 400003, Maharashtra, India
Verified Supplier
Trust Stamp
Hot Markets
Worldwide
FOB Price
Negotiable, Sent by mail
Min. Order Quantity
As per requirement
Supplying Ability
We can take Bulk orders
Payment Terms
Cash / Credit/ T/T ,L/C




Packaging & Delivery
Packaging Detail:
Safe packing as per Industrial & International standard
Delivery Detail:
Timely delivery of consignments after confirming order & payment
Shipment By:
Sea, Air, Cargo