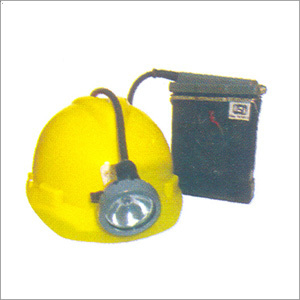 Helmet With Head Lamp
Product Code : SSS-HP-104
Product Description
Since inception in 1988, we have achieved commendable successes in the market by offering a superior range of Helmet With Head Lamp. Owing to characteristics like optimal illumination, lightweight, long operational life and durability, these helmets are used by workers working in coal mine and construction sectors. Made using high temperature import polyethermide plastic or fiber glass, our Helmet With Head Lamp is accessorized with flashlight, connectors and rechargeable battery. Furthermore, we can customize these lamps as per the needs of the clients.
Further Details:

Product Name: Helmet With Head Lamp
Product Code: SSS-HP-104
Model Number: SSS-HP-104
Brand Name: SUPER SAFETY SERVICES
Business Type: Manufacturer, Supplier, Exporter
Verified Supplier: Trust Stamp
Hot Markets: Worldwide
FOB Price: Sent by mail
Min. Order Quantity:As per requirement
Place of Origin: Mumbai - 400003, Maharashtra, India
Design Features & Specification
Size: Customized
Color: Multiple option, Customized
Weight of helmet: Standard
Dimension: Customizable
Accessories: Wired, depend as per model
Key Features
Helmet with lamp bracket and head lamp with battery (12 V) which can be recharged.
Clip-on accessories like Earmuff, Welding Visor and Face Shield without drilling.
Lamp can be fitted on any industrial helmet
Make: "UniSafe".
Imported head lamp also available.
Industrial standards.
Customized options & sizes.
High quality & precise size.
Used best quality materials.
Packaging & Delivery:

Packaging Detail: As per International standard
Delivery Detail: Timely delivery of consignments