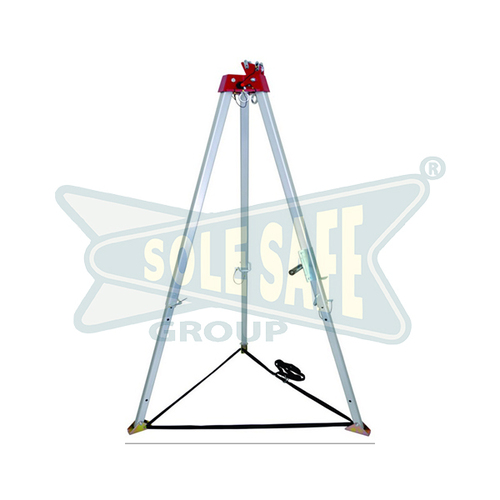 KARAM Confined Space Entry Tripod
Product Code : SSS-KSP-FP-CSET-PN80
Product Description
Specifications:
For access in Confined Spaces.
With two mounted pulleys at the head of the Tripod in the prolongation of the main leg for passing a cable.
Having two auxiliary eye bolts as anchorage points.
Aluminum Alloy cast head, fully adjustable Aluminum telescopic legs.
Steel support-shoes provided with rubber sole to increase friction and impart more stability.
Strength of anchorage point greater than 10 kN.
Every Tripod is provided with inbuilt fixture for attaching our winch PN 801 (can be supplied without this fixture on Special request).
Every Tripod is provided with Tripod Bag No. PN 904.

Specification:

Fully adjustable telescopic legs, adjustable height from 1.15m to 2.15m
Wheelbase (Footprint) : 1.5m Diameter
Weight : 13 kg
Maximum load capacity : 500 kgf
compliance : EN 795 CLASS B
Length: 10 ft.
Specification.

Maximum load capacity
Weight : 15 kg
Wheelbase (Footprint) 500 kgf
1.8m Diameter
Fully adjustable telescopic legs, adjustable height from 1.9m to 2.9m
compliance : EN 795 CLASS B