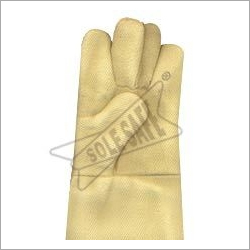 Kevlar Hand Gloves
Product Code : SSS-HAP-523-A
Product Description
Kevlar/ Para Aramid Hand Gloves

We have established a reputation position in the domain by manufacturing and offering an innovative range of Kevlar/ Para Aramid Hand Gloves. Made and designed from kelvar fabrics and treads, these gloves are ideal for wearing during welding & cutting operation. Our Kevlar/ Para Aramid Hand Gloves are featured with various characteristics including high temperature resistance, elegant deign and comfortable. We lay prime emphasis on the packaging of these gloves for safe and secure delivery at clients end.
Further Details:

SSS-HAP-523-A

(finger type hand gloves).
With inside woolen & FR Fabric lining.
Heat resistance upto 550 deg.C continous working temperature and 850 deg short term working temperature.
Size : 12" to 22".
Quick Buyer Details

Product Name
Kevlar/ Para Aramid Hand Gloves
Product Code
SSS-HAP-523-A
Model Number
SOLE SAFE SSS-HAP-523-A
Brand Name
SOLE SAFE
Business Type
Manufacturer, Supplier, Exporter
Place of Origin
Mumbai - 400003, Maharashtra, India
Verified Supplier
Trust Stamp
Hot Markets
Worldwide
FOB Price
Negotiable, Sent by mail
Min. Order Quantity
As per requirement
Supplying Ability
We can take Bulk orders
Payment Terms
Cash / Credit/ T/T ,L/C








Packaging & Delivery
Packaging Detail:
Safe packing as per Industrial & International standard
Delivery Detail:
Timely delivery of consignments after confirming order & payment
Shipment By:
Sea, Air, Cargo