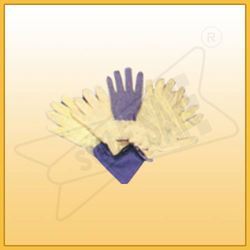 Kevlar / Para Aramid Knitted Seamless Gloves
Product Code : SSS-HAP-522
Product Description
Kevlar / Para Aramid Knitted Seamless Gloves
Item Code: SSS-HAP-522
Very light with extra ordinary thickness.
100% Kevlar woven gloves.
Heat resistance 250 deg. C for continuous operating and 700 deg. C. for short term exposure.
Used in light and heavy industries.
(i) With or without inside cotton lining
(ii) With or without an antislip PVC dot / coating.
Size : Medium and large.