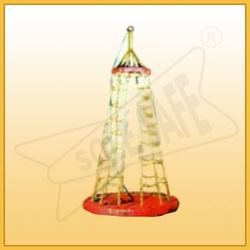 Personal Safety Net
Product Code : SSS-MOE-1903
Product Description
Personal Safety Net
Item Code: SSS-MOE-1903
API Specification 2C Third edition, march 1983,section 5.4(d).S.W.L R2500 LGS with design factor of 10,.
Lifting ring -7/8" forged steel.
Hand spliced eyes.
Safety load line.
Stabilizer unit cover with plastic.
Nettings lines 3/4" 9950 lbs test each.
Top ring 30" padded.
Bottom ring overall dimension with72" padding.
Padding is shock absorbing, synthetic floating material.
9 ft from bottom to top ring.
Four entrance to net.
Bottom of net -5 rubber pads.