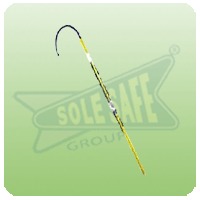 Rescue Stick
Product Code : SSS-ESP-RS-616
Product Description
Rescue hooks and sticks are an essential electrical safety item for the retrieval of victims from electric shock - electrical safety rescue hooks and sticks protect against electrical shock and are a common feature of electrical substations.Rescue hook is a strong lightweight electrical safety device to quickly and safely recue a person suffering electrocution - typical applications include UPS battery rooms data centres switch rooms generator rooms plant rooms and computer rooms.
Specification :-
Rescue stick is an essential electrical safety product
Designed to rescue or retrieve the victim from electric shocks or electrocution
High strength lightweight body rescue stick is electrically insulated
Compact design facilitates its usage in confined spaces in cabinets switch gears or just near electrical vaults.
Application: Switch rooms UPS battery rooms plant rooms data centres and substations.