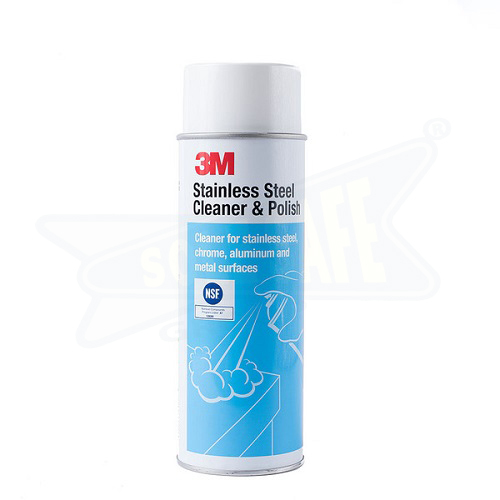 Stainless Steel Cleaner
Product Code : SSS-HKP-3MCP-SSC-01
Product Description
Stainless Steel Cleaner and Polish Protector with Scotchgard leaves an invisible layer of protection on stainless steel surfaces making them easier to clean.
This water-based, oil-free formula allows for quick-drying, streak-free spot cleaning which helps reduce labor and lower product consumption. Attracts less dirt and dust than leading polishes.
Ability to spot clean means as much as 80% of time savings. No oily overspray or oily spills means less risk of slips/falls.

Features and Specification

1) Clean with less effort
2) With a high-gloss formula, it wipes clean with no streaks or buildup, resists fingerprints and masks surface blemishes
4) NSF A7 certified for non-direct food contact surfaces
5) Overall best NFPA safety rating (Health – 0, Flammability – 0, Physical Hazard – 0).
6) USDA certified biobased product
7) Ideal for stainless steel, chrome, laminated plastics and aluminum surfaces.
8) Non-corrosive Non-flammable
9) Applications - Appliances,‎ Bathrooms,‎ Fixtures/Equipment,‎ Fryers,‎ Griddles,‎ Grills,‎ Hoods,‎ Kitchens/Dining,‎ Office Space/Classrooms,‎ Ovens
10) Size- 32 oz
11) Oil-free formula reduces petroleum content by 90%.
12) No buffing required.