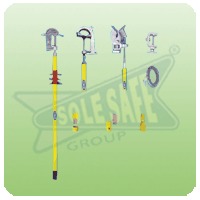 Telescoping Earthing Rod
Product Code : SSS-PFIH-TER-220
Product Description
We provide Telescopic Earthing Rod to our clients which provides ideal safety from lightning and short circuits which are one of the two major threats to buildings, factories and industries having electrical board areas. The Telescopic Earthing Rod is also designed to protect people working at de-energized overhead lines against an unexpected return of power on network. This industrial earthing rods has strong sturdy construction and gives excellent dielectric strength. It is non-corrosiveness with smooth glossy finish.
Specifications :-
It is Fiberglass rod manufactured from high quality epoxy resin. It is prevented from moisture and excellent dielectric strength.
It is designed in such a way that makes it easy to use. It is equipped with FRP/Rubber insulator to increase creepage distance. It is provided with a good grip also.
It is available in various sizes, lengths and voltage resistances.