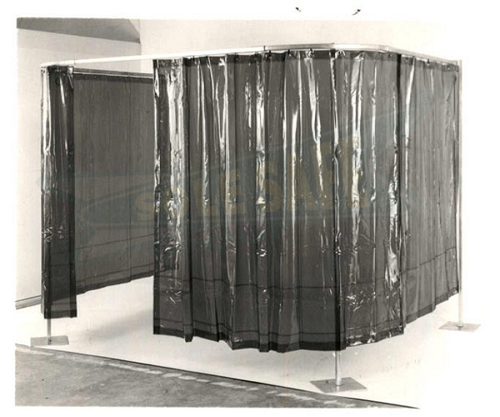 Welding Curtain
Product Code : SSS-PFIH-1213
Product Description
Welding is a process which involves combination of heating, cutting, sparks, burning metal, and UV rays are given off which creates risk for not only the one who is carrying out process but also for those who are in vicinity of it. Keeping this in mind we manufacture this welding curtain which will effectively reduce hazardous UV light coming through welding process and protect person from sparks.

With a proven track record of fabricating and timely supply of quality products, we at Super Safety Services is manufacturing, dealing and exporting of Welding Curtain. These products are tested as per the set parameters of quality to ensure their high and accurate performance. Welding curtain is very popular in the market owing to their efficient and effective functioning and operation. In order to meet the varied specifications given by the clients, we can customize the designs and dimensions of these high quality products. Welding Curtain is available with us at very affordable rates in various sizes.

Product Features:

Heat proof
Varied designs
Tensile strength
Perfect dimensions
Corrosion resistance
Specifications:
1) Welding Curtains are made of PVC.
2) They are available usually in thickness of 0.4mm(16 mil).
3) They are CE approved (EN 1598:2002).
4) Major properties are: UV Resistance, Abrasion Resistance, Flame Resistance.
5) These welding screens can be cut in any length needed.
6) We also offer customisation by providing eyelets in this Portable Welding curtain along with portable welding stands on which the curtains can be hung and an enclosed welding area can be formed. They are usually available in green, red and yellow colours